Happy National Adopt a Shelter Pet Day!
By: Julia Prendergast
It's National Adopt a Shelter Pet Day – what better time is there to take in some adorable adoption success stories?
---
---
The Ottawa Humane Society is a great place to get involved if you're interested in adopting, fostering, or even volunteering!
By rescuing a pet (new or old) from a shelter or the Ottawa Humane Society, you are helping to lessen the overpopulation of pets! There are not enough homes for all of the animals born every year – by adopting, families are saving that animal's life, as well as finding a best friend for life. Furthermore, you're making room in that shelter for other pets to see their chance at a great new life.
It's said that pets provide psychological, emotional, and physical benefits to their owners; taking care of an animal can lessen loneliness and provides a sense of fulfillment. Not to mention the unconditional love you receive in return!
---
Sit With Me Rescue has also been in the business of saving dogs in the Ottawa and Gatineau region since 2012. You can keep up with all of the animals and their amazing stories on the shelter's Instagram:
Sit With Me Rescue is working to give back to the community during this time – their Sit With Me Supporting Local fundraising auction is accepting donations of gift cards to any of the awesome local businesses in the surrounding area. They'll then be auctioning them off, to support both the businesses and the dogs.
---
---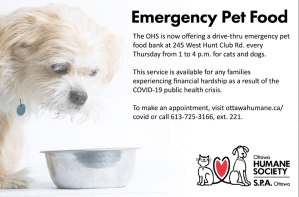 For those of you with pets, the Ottawa Humane Society is always here to help. They're offering a 'drive-thru emergency pet food bank', welcoming any families experiencing financial hardship.
There are so many animals, from puppies to adult animals, that are looking for their 'furrever home'. If you're considering adopting a shelter pet, remember to read their profile thoroughly and get to know their own personality. They'll love you for you!