Three people were killed and another 23 were injured — some critically — after a double-decker OC Transpo bus crashed at the Westboro transit station in Ottawa during the Friday afternoon rush hour, city officials and first responders have confirmed.
READ MORE:
'Chaotic' scene of fatal bus crash captured in photos
The collision occurred at 3:50 p.m., according to Ottawa police. Ottawa Mayor Jim Watson said on Friday evening that two of those killed were on the bus and one was on the platform.
WATCH: Bus driver detained, set to be interviewed by police after fatal Ottawa crash
"Our hearts and condolences go out to all those injured (and) those family members who have lost loved ones," Watson said at a news conference at city hall shortly after 7 p.m. on Friday.  "Our thoughts are also with the others on that bus, at that station, those directly involved and those who witnessed the collision."
The westbound 269 bus headed to Bridlewood, in the south end of Kanata, appeared to have rammed into the shelter at the station located west of downtown Ottawa. Images taken at the scene show the front of the double-decker bus ripped off. Fire crews used ladders to get passengers off the top level of the bus.
WATCH: Emergency crews on scene after Ottawa bus crash at transit station
The bus driver, a woman, was detained and taken to police headquarters for questioning, Ottawa Police Chief Charles Bordeleau said at the news conference.
The police chief said "something" at the scene required officers to arrest the driver.
Six police collision investigators are now probing the cause of the crash and are being assisted by the provincial and federal ministries of transportation, Bordeleau said.
"This will be a long investigation. Investigators will be working through the night and into the morning to document the scene," Bordeleau told reporters.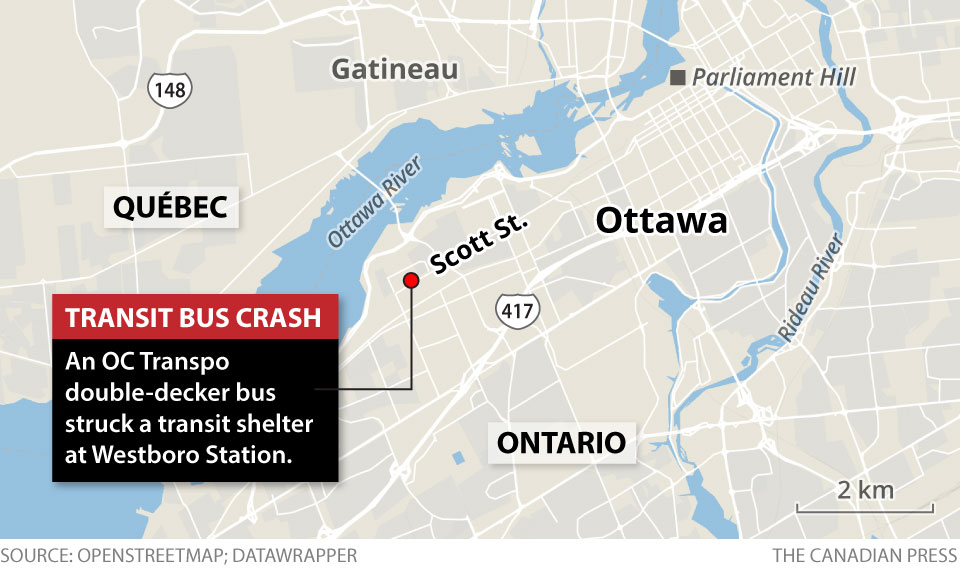 ​
Bordeleau said several people were trapped on the upper deck of the bus "for a period of time" and that the bus' upper level suffered the greatest amount of damage. Most of the serious injuries occurred on the upper right side of the bus, he said.
"As you can imagine, this is a very chaotic scene," he said.
The bus could have been holding up to 90 passengers, standing and seating, OC Transpo general manager John Manconi told reporters. Manconi said officials do not know how many people were waiting on the platform when the collision occurred.
Ottawa Paramedic Chief Myles Cassidy told reporters that 25 people were taken to hospital from the scene, 14 in critical condition and 11 in serious condition.
READ MORE:
Ottawa bus crash happened on a rush hour trip, at a station with several routes
The Ottawa Hospital confirmed shortly after 8 p.m. that it received 12 patients at its Civic Campus and 6 patients at the General Campus following the crash. Seven of the patients remain in critical condition and 9 patients are in stable condition, across both campuses, the hospital tweeted.
The Queensway Carleton Hospital tweeted that it received one patient by ambulance and a few walk-in patients in connection with the collision and expected up to 10 more low-acuity patients.
The City of Ottawa tweeted that the Transitway is closed from Tunney's Pasture Station to Westboro Station and told public transit users to expect delays. Scott Street is also closed from Winona Avenue to McRae Avenue, the city said. The duration of the closures is unknown.
OC Transpo said buses are being detoured as a result of the crash. The city and police are asking people to avoid the area.
WATCH: Debris lines transitway in Ottawa after fatal bus crash
Supports for those affected
City staff have been asked to ensure "all necessary resources" are made available to assist individuals who were injured and their families, Watson said.
Family members who suspect a loved one was affected by the bus crash but cannot connect with that individual can call 1-855-797-8875, a reunification line set up by the Red Cross.
The Distress Centre of Ottawa urges anyone affected directly or indirectly by the fatal collision or anyone experiencing feelings of anxiety or post-traumatic stress disorder following the crash to call their help line: 613-238-3311
READ MORE:
Ottawa bus crash happened on a rush hour trip, at a station with several routes
The Churchill Seniors Centre, located at 345 Richmond Rd., is open to residents seeking information about family members involved in the collision, police said in a news release.
Flags flying at Ottawa City Hall have been lowered to half-mast, Watson said at the news conference on Friday evening.
Politicians react to fatal collision
Multiple city councillors tweeted their sympathies and condolences in the aftermath of the fatal crash.
Jeff Leiper, the Ottawa city councillor representing the area where the Westboro transit station is located, described the community as "shaken and grieving" after the tragic event on Friday.
We're a community shaken and grieving tonight after the sad event at Westboro station. Our thoughts are with those hurt, the families of those who have lost loved ones, and those who were witness to tragedy. My thanks especially to first responders.

— Jeff Leiper (@JLeiper) January 12, 2019
My deepest sympathies and condolences to the families who lost loved ones in today's bus accident. Thank you to our first responders –@OttawaPolice @OttawaParamedic @OttFire & city staff for your quick response to help those affected.

— Diane Deans (@dianedeans) January 12, 2019
Ontario Premier Doug Ford said on Twitter that he was "devastated" to hear of the accident and thanked first responders for their assistance, along with Ottawa MPPs Lisa MacLeod and Merrilee Fullerton. In statement later on Friday evening, Ford called the fatal collision a "terribly tragedy."
"This is a difficult day for our nation's capital, and my heart goes out to the victims and their loved ones," the premier said. "I know that the people of Ontario have them in their hearts tonight."
Devastated to hear about those who lost their lives and were injured following the horrific bus collision at Westboro Station in Ottawa. My thoughts are with the victims and their families this evening. Thank you to the first responders who are working to help all those affected.

— Doug Ford (@fordnation) January 11, 2019
A tragic day for our City. We are reminded of the terrible Barrhaven OC/VIA crash and how difficult it was for victims families, those who survived and our first responders so our thoughts are with those impacted in this horrific crash. We are a strong and supportive community. https://t.co/d6lwzmeeXF

— Lisa MacLeod (@MacLeodLisa) January 12, 2019
Following this closely and will be keeping in touch for updates. My heart goes out to all the people affected by this tragedy. #Ottawa #Kanata

— Merrilee Fullerton, MPP (@DrFullertonMPP) January 11, 2019
Prime Minister Justin Trudeau also tweeted his "deepest condolences" to those affected.
I want to send my deepest condolences to the families of victims and everyone affected by today's tragic bus crash in Ottawa. Thank you to the first responders who rushed to help – we're monitoring the situation closely.

— Justin Trudeau (@JustinTrudeau) January 12, 2019
In 2013, an OC Transpo double-decker bus collided with a Via Rail train in suburban Barrhaven, killing six people.
– With files from The Canadian Press and Christopher Whan
https://twitter.com/SaveOurSenators/status/1083834431322943491
Multiple emergencies vehicles at Westboro station. #ottnews #otttraffic pic.twitter.com/HroE4C8RRr

— nononai (@naaiehhmess) January 11, 2019
@CFRAOttawa Westboro pic.twitter.com/Vt4o69dsLL

— Ken Mellon (@Kendrosm) January 11, 2019
© 2019 Global News, a division of Corus Entertainment Inc.